Hello poco Fans

Couple of weeks ago Redmi By Xiaomi Launched it's 1st Redmi Phone of the Year 2019 which Compromises nothing.But Key feature is it's camera also Along with Redmi Note 7 they announced Redmi Note 7 PRO with Sony IMX 586 48 MP camera sensor .So today I will be talking about it .

Main Features



1.World's first*3 0.8 μm ultra-compact pixel size enables industry's highest*1 pixel count at 48 effective megapixels*2




Generally, miniaturization of pixels results in poor light collecting efficiency per pixel, accompanied by a drop in sensitivity and volume of saturation signal. This product was designed and manufactured with techniques that improve light collection efficiency and photoelectric conversion efficiency over conventional products, resulting in the world's first*3 0.8 μm pixel size, with both high sensitivity and high saturation signal level.
This smaller pixel size allows the new product to deliver 48 effective megapixels*2 on a compact unit with 8.0 mm diagonal, which can be fitted on many smartphones. The increased pixel count enables high-definition imaging even on smartphones which use digital zoom.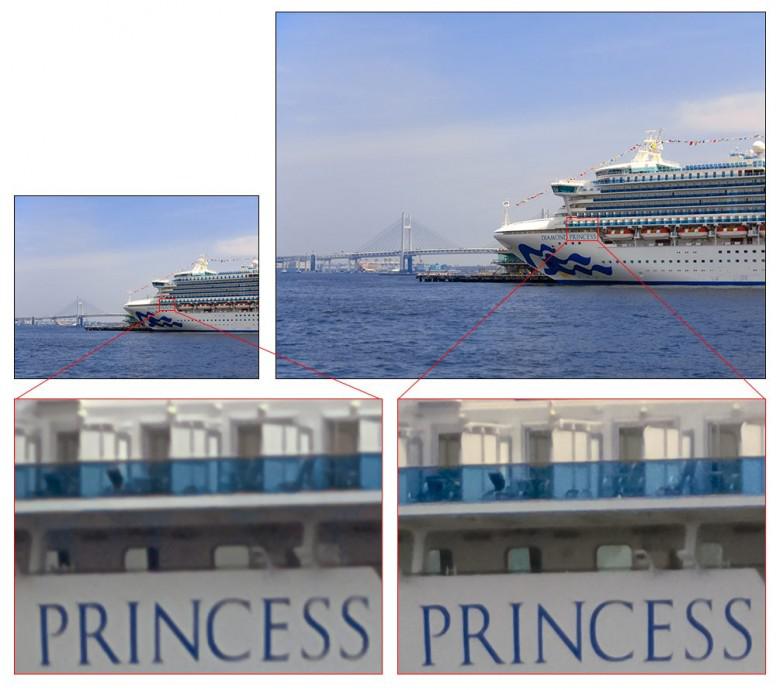 Conventional image (12 effective megapixels)IMX586 image (48 effective megapixels*2)
2.The Quad Bayer array enables both high sensitivity and high resolution
By adopting the Quad Bayer color filter array, where the adjacent 2x2 pixels come in the same color, the new sensor delivers both high sensitivity and high resolution. In low light situations, such as shooting at night, the signal from the four adjacent pixels are added, raising the sensitivity to a level equivalent to that of 1.6 μm pixels (12 effective megapixels), to capture bright, low-noise photos and videos. When shooting bright scenes such as daytime outdoors, the built-in, original signal processing function performs array conversion, making it possible to obtain high-definition 48 effective megapixel images in real time.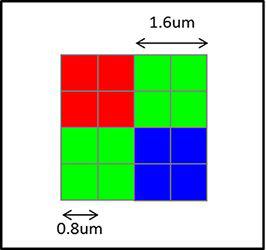 Pixel array of the new sensor
(Quad Bayer Array)(conceptual diagram)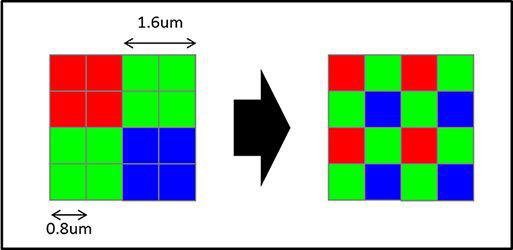 Array conversion using original signal processing
(conceptual diagram)
3.Four times greater dynamic range than previous products and real time output
Original Sony exposure control technology and signal processing functionality are built into the image sensor, enabling real-time output and a superior dynamic range that is four times greater than conventional products. Even scenes with both bright and dark areas can be captured with minimal highlight blowout or loss of detail in shadows while viewing the image on the smartphone display.
Key Specifications
Model name

IMX586

Number of effective pixels

8000 (H) × 6000 (V)48 megapixels*2

Image size

Diagonal 8.000mm(Type 1/2)

Unit cell size

0.8μm(H)×0.8μm(V)

Frame rate

Full

30fps

Movie

4K(4096×2160)90fps1080p240fps720p480fps(w/crop)

Sensitivity (Standard value: f5.6)

Approx. 133LSB

Sensor saturation signal level (minimum value)

Approx. 4500e

Voltage

Analog

2.8V, 1.8V

Digital

1.1V

Interface

1.8V

Main functions

Image plane phase-difference AF, HDR imaging

Output

MIPI C-PHY1.0 (3 trio) / D-PHY 1.2 (4 lane)

Color filter array

Quad Bayer array

Image output format

Bayer RAW