ANNOUNCEMENT
We have selected our first group of moderators who will sail boldly with us on our maiden voyage! Get in touch with them through the community or contact them over Telegram for any queries or if you just feel like finding a new friend!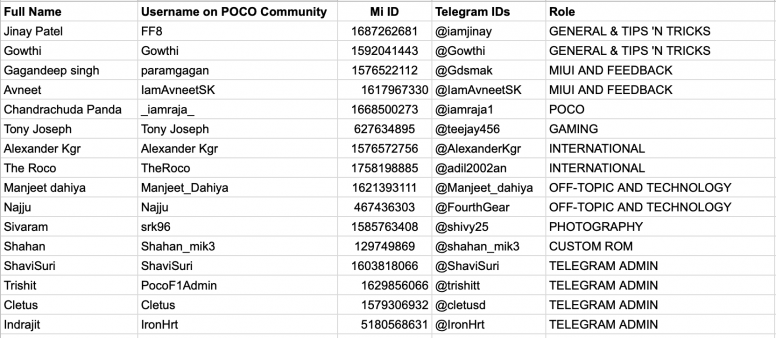 Hello!
Now that we have got the community going, we need to prepare for what comes next. As more users start visiting the community, we will soon need help in making sure the community remains in the best shape possible. So you get the point, we need new moderators!!
At POCO, we believe that moderation doesn't only have to be a reactive process focusing on what is going wrong in the community, but also serve a broader role wherein thebarriers of participation are removed and people are encouraged to interact and talk to each other. So we are inviting the most passionate of you lot to help us out in providing better support on POCO Community.
As a moderator, you will serve a central role in working together with admins and officials down the line to uphold the central tenets of our community, while helping countless POCO fans find a home here. If you have previous forum management experience that would be a big plus! Initially you will be provided the title of Intern Moderator, and after the first phase of assessment, will be promoted to Moderator.
Core Responsibilities
· Resolving conflicts/removing bad content
· Creating high-quality threads on relevant sections
· Structuring the community section and keeping it clean. Edit, move, merge, or remove threads or posts that do not comply with related rules
· Monitor interaction and help in concentrating activity within threads
· Stimulate Discussions
· Adapt Guidelines as and when required
· Keep your section neat and clean. Do moderations wherever required
· Organize online events for better user participation
What We Are Looking For?
We are looking for Moderators for the following segments:
· 1 Moderator for POCO Section
· 1 Moderator for Gaming Section
· 1 Moderator for Custom ROM Section
· 1 Moderator for Photography Section
· 2 Moderators for MIUI and Feedback Sections
· 2 Moderators for General and Tips and Tricks Sections
· 2 Moderators for Off-Topic Section and Technology Sections
How to Apply?
Reply to this thread with the following details
· A brief introduction of yourself ( Includes your brief intro, Key points, hours you can contribute in a day, previous forum experience(if any), and achievements.)
· Device(s) you are using
· Mention the section you prefer
· Why do you think you are eligible for the section you chose above?
· Links to your previous work or sample threads created by you
Benefits
· Higher read permission
· Forum threads management
· Promotion to higher management levels
· Talk to POCO Community Admin team directly
· Prizes from the POCO CommunityTeam
· Priority to join POCO CommunityOfficial Events
Assessment
· For Phase 1 of POCO Community Operations, we will assess the moderators on a monthly basis following which, the 2 highest performing moderators will be given exciting prizes
Other Requirements
· Willing to follow POCOCommunity Rules and carry out duties responsibly
· Humble, good listener, and learner.
· Candidate must be a good team player and cooperative with other users
· A good command over English is necessary
· In case of roles for specific sections such as Gaming, MIUI for POCO, etc. candidate must have good background knowledge of the subject
· Familiar with POCO and what we stand for (or be really good at Googling, searching online for answers or simply just asking fellow mods humbly).
· Have enough time to be online at least 2-3 hours a day
Timeline
19 Sep 2018 – 08 Oct 2018
Announcement
By 16 Oct 2018

BEST OF LUCK TO ALL WHO ARE APPLYING!
Rate