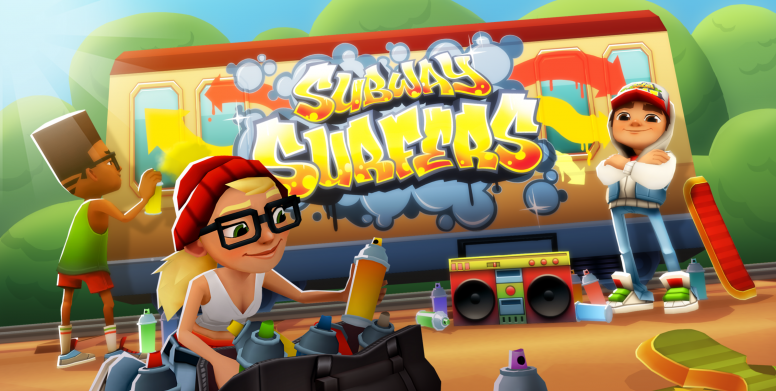 Subway Surfers is an infinite runner type game. We have seen many infinite runner type games such as Temple Run etc in the playstore. But as with every, infinite runner type games, this game also has a story. The player aka Jake, a small boy, who is fast is being chased by a grumpy Inspector & his dog. When the Jake and the Inspector sees Jake creating graffiti on the walls, the inspector and his dog will begin to chase the player Jake. He has to run fast, jump fast, roll over and avoid the obstacles from being hit. To make the obstacles more interesting, sometimes trains may come from opposite direction towards the player, which has to dodge. If the player is being hit, by any of the obstacles, boom... The grumpy inspector and his dog catches the Jake and the game ends.
To make the gameplay more interesting, there are few perks here and there. There is a hoverboard or a skateboard, which has a no crash feature, moving platforms such as train tops etc etc. There are also some powerups like things, where the player can collect a whole lot of coins very easily without any obstacles. The in-game collectibles are coins and special items. Coins can be used to unlock different hoverboards, unlock different character etc. Also there are some collectible objects which unlock special events depending on each month.
What I like most about the game is the simple controls. Swiping left or right on the screen, moves the player left or right simultaneously. Swipe Up and
Down on the screen, jumps the player up and rolls over the player too. Also to activate the hoverboard, the player has to double tap on the screen.
The objective is to run maximum and this score maximum. There is a leaderboard which shows where your current score is globally as well as with in your country. Thought the game is a free to play game, there are some in-game purchases or what we call as in-app purchases. This is not a necessary requirement to play the game, but to unlock some of the features, it needs these in-app purchases. Also there some in-game rewarded video ads, when the player need to resume from his last position, when he was failed. Also the player can use the in-game currency such as keys to unlock certain items in the game.
Features
Grind trains with your cool crew!
Colorful and vivid HD graphics!
Hoverboard Surfing!
Paint powered jetpack!
Lightning fast swipe acrobatics!
Challenge and help your friends!

Screenshots