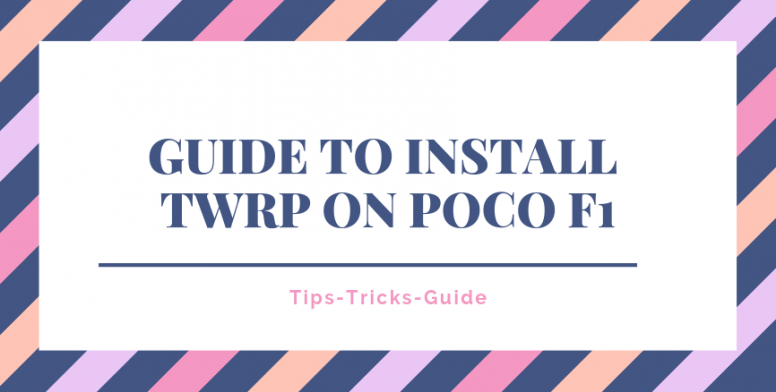 Hello POCO Fans,
Xiaomi's new Pocophone is focused on giving basic leads specs at a moderate cost. Fortunately, this technique has been a hit with Android fans as obvious by such a snappy TWRP discharge. Clients would now be able to additionally broaden execution of their Poco F1 phone by installing TWRP custom recovery and after that utilizing it further to gain root, installing custom ROMs. The technique ahead would give users a chance to install TWRP custom recovery on Xiaomi Poco F1 with the assistance of ADB/Fastboot utilities.
So Today, I am going to teach you on 'How can you install TWRP on POCO F1(Master Of Speed)'



NOTE: Just before we bounce towards the installment, we prescribe you initially make a 'Full Data Backup'. When that is finished, Read the guide best way to install TWRP custom recovery on Poco F1. Neither me & nor Xioami is responsible for the damage or brick of your gadget.




➺ POCO F1 USB Driver (Attached).
➺ Enable Developer Options by going to Setting--- About phone and tapping on build number on various Times.
➺ Don't Forget to take full data backup of your device (again)
➺ Ensure the Bootloader of your Device is Unlocked, if its locked then, kindly Unlock it first
➺ Enable USB Debugging in SettingsDeveloper Options. Ensure that the USB Debugging is checked.
➺ Energize(Charge) your gadget to half first(50%) and ensure your phone does not shut down the Processor it may harm your device.



Step 1: Download ADB/Fastboot – Android SDK Platform Tools separate bundle and install it on your PC. I have Attached Platform-tools package files at the end of the thread.
Step 2:
Connect Your Device to PC/Laptop using USB Cable.
Step 3:
Download Most Stable TWRP Recovery ZIP File by
Vashishth
( Attached at the end of the thread) and store it into the same folder as the
extracted Fastboot/ADB package folder
. While saving, it is recommended you to rename the file to '
recovery.img
'.
Step 4:
Explore to the extracted folder now from where you have Fastboot & Open Up
Command Prompt & Navigate to that directory.
Step 5:
Type this
adb reboot bootloader



Step 6: Wait for your Device to boot into bootloader mode. You can boot your device in bootloader mode by pressing and holding Volume Up + Power key.
Step 7:
Once your device enters in bootloader mode, type in the following command and press Enter.
fastboot flash recovery recovery.img



V
oila! Now TWRP recovery should be Installed on your Xiaomi Poco F1. You can enter Recovery Mode by Pressing and holding the
Volume Down + Power keys together.
➺
Attached Files:
Link to Download TWRP by Vashisth
Xioami ADB Driver.zip
(15.18 MB, Downloads: 34)
platform-tools-latest-darwin ( MACos BY JINAY).zip
(5.19 MB, Downloads: 9)
platform-tools-latest-windows BY JINAY.zip
(4.55 MB, Downloads: 33)
Source
|------Thanks to all to be herE------|
Rate